In our last post we talked about some of the common thermosets.  Epoxy is a popular choice since it has good cost/performance, i.e. you can get a wide variety of interesting properties at a reasonable cost.  Epoxies are characterized by the three member oxygen containing ring that is easily polymerized using a wide variety of nucleophiles (typically amines).  There are many types of epoxy starting materials that allow the "molecular architecture" to be tailored depending on the material requirements.
The most common epoxy is the diglycidyl ether of bisphenol A (DGEBA) and is shown in the following figure:

It has a functionality of two, so when crosslinked with a multifunctional curing agent (f greater than or equal to three), a crosslinked network will form.  Typical curing agents are diamines (f = 4).  We will discuss curing agents in the next post.
If you want to achieve a higher modulus, Tg, stiffness, etc.  then you need to use an epoxy with higher functionality.  There are many epoxies with f > 2 such as: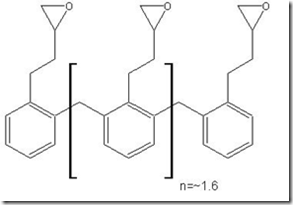 Multifunctional epoxy novolac
Epoxy novolacs are used in coatings, filament winding, and encapsulants.  Depending on the degree of polymerization (the value of n in the above figure), the molecular weight and functionality can vary from one grade to another.  Huntsman provides multiple types of epoxy phenol novolacs under the Araldtit EPN products.  (see Huntsman Advanced Materials product guide).

f = 3 epoxy (TGAP)
The trifunctional epoxy, triglydidyl p-aminophenol (TGAP) is commercially available from Huntsman as MY 0500 or MY 0510.  It can be used to increase the heat deflection temperatures and increase Tg in adhesives, laminates, and structural composites. For example, MY 0510 is a liquid epoxy with a low viscosity and can be used in a dual role; control the viscosity prior to curing (ease of processing) and enhance the performance of a bisphenol A epoxy.

f = 4 epoxy (TGDDM)
The four functional epoxy, tetra glycidyl diaminodihpenyl methane (TGDDM) is a very common epoxy used in structural composite applications.  These are commercially available from Huntsman as MY720 and MY721 Since f = 4, a highly crosslinked network forms resulting in good mechanical properties such as modulus and high Tg.  TGDDM is typically cured with an aromatic diamine  such as diamino diphenyl sulfone (DDS) yielding a high Tg matrix for composites.  The DDS has a functionality of four, so the crosslinked network builds quickly during curing.  A potential drawback is brittleness, but fortunately there are several ways to toughen these high Tg epoxy networks.
A common formulation approach is to start with the traditional DGEBA and then chose a hardener and determine the final material properties.  If higher modulus or Tg is needed, then one can start blending in some epoxy with higher functionality.  Many commercial epoxy-based products are formulated to contain a mixture of several epoxies to achieve the desired properties and processing.