DSC of Polymers: Fundamentals and Applications 5-Part Series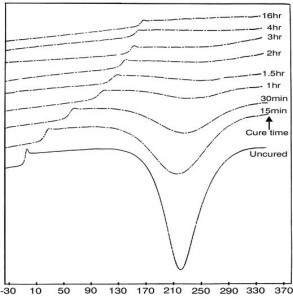 Need a refresher on DSC? Want to get more out of your thermal analysis work? You've come to the right place. We have an exciting 5-part video series by "the experts who wrote the book." Literally. The presenters in the DSC video series recently collaborated to write "Thermal Analysis of Polymers: Fundamentals and Applications," by Menczel and Prime, editors, Wiley, 2009.
"Basic Principles of DSC" by Joseph Menczel, Ph.D.
Do you know that differential scanning calorimetry (DSC) is the most popular thermal analysis method used by scientists? In the first video, the fundamental principles of DSC will be presented to set the stage for the remaining sessions. In this video you will learn:
how DSC can provide fast determination of heat capacity
how to measure the various transition temperatures, such as the glass transition temperature (Tg), the melting point (Tm), crystallization temperatures (Tc), and the heat of fusion (delta H)
put it all together to gain an appreciation of the value of DSC in many types of applications.
"Modulated DSC" by Larry Judovits, Ph.D.
Did you know how to use a powerful tool called modulated temperature DSC (MTDSC) to get more out of your DSC run? In a MTDSC run, a temperature modulation is overlaid on a linear heating or cooling temperature profile and reveals "hidden information" not obtained during a standard DSC run. In this video you will learn:
the basic MTDSC theory
how to resolve overlapping peaks
how to use MTDSC to solve real world problems.
"Application of DSC to Amorphous and Crystalline Thermoplastics" by Joseph Menczel, Ph.D.
Have you ever had a problem to solve when a thermoplastic polymer become soft and fluid after the temperature was raised beyond a certain value? Amorphous polymers undergo a glass transition and semi-crystalline polymers melt. In this video you will learn:
the basics of the glass transition temperature
melt- and cold-crystallization of polymers
melting in semi-crystalline polymers and 4) how to use the basic thermal parameters of thermoplastics to solve practical applications.
"DSC of Thermosets" by R. Bruce Prime, Ph.D.
Did you ever wonder what happens to thermosets such as epoxy and phenolic during curing? Chemical reactions convert small liquid molecules to a solid network structure of infinite molecular weight giving thermosets their unique properties. In the video you will learn:
how to measure the degree of cure
establish the glass transition temperature (Tg) and conversion relationship (important to get the right final properties)
understand the role of cure kinetics and how to design and optimize the curing process.
"Small Molecules, Fast Scan DSC, Blocks and Blends" by Harvey Bair
Did you know that DSC is a valuable technique for evaluating small molecules and polymer blends? In this video you will learn:
how to use DSC to determine the purity of low MW compounds
how using Fast scan (>100ºC/min) DSC measurements enhances the DSC instrument sensitivity
how to use DSC to investigate miscibility in polymer blends and determine the compositional analysis of an unknown polymer blend structure
how to use DSC to measure physical aging in microphase separated block copolymers.
What a powerful line-up of industry experts providing powerful background information as well as proven problem solving techniques. Don't miss this great opportunity to learn from the leaders in Thermal Analysis.
So what is your investment to improve your thermal analysis skills?
The Best Value is the Five part video series for $399.
Here's the great value you will receive for your investment:
Recording of the audio and video from the online event presentations by industry experts who literally "wrote the book on thermal analysis."

Copy of the presentation slides in pdf format

Transcription (eBook) of the audio portion for those who prefer to study a written document
Remember, the best deal is the 5-part video series for $399. Go ahead and click the Buy Now button to get started!
If you would like to purchase individual videos, they are available for $99 each.
Basic Principles of DSC by Dr. Joseph Menczel
Modulated DSC by Dr. Larry Judovits
Application of DSC to Amorphous and Crystalline Thermoplastics by Dr. Joseph Menczel
DSC of Thermosets by Dr. Bruce Prime
Small Molecules, Fast Scan DSC, Blocks and Blends by Harvey Bair