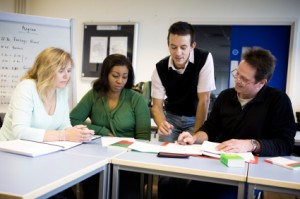 InnoCentrix provides a series of customizable polymer training options to help your organization keep up with the demands of highly technical businesses.  Our polymer training materials utilize the best current thinking and approaches. We offer thee styles of polymer training:
Online Webinars
Traditional classroom/workshop training (customized for specific client polymer training needs)
Custom blended learning training (on-site, online webinars, online meetings, etc.)
Webinar Online Training
With the availability of highly effective webinar software platforms, polymer training can come right to your office or home.  No travel, no hotels, or hard seats in conference rooms.  Visit the Video Store for more information on our expanding line-up of online polymer training videos.  We provide polymer training to scientists and engineers who may not have completed formal training in polymers, but find themselves working with polymers, have a need to characterize polymers, or formulate or design with polymers.  Polymer training modules include fundamentals, characterization, and example of real life applications.
At InnoCentrix, we are specialists in thermoset polymers.  In 2011, Thermoset University was founded by Dr. Jeff Gotro and Dr. Bruce Prime, two recognized experts in thermoset polymers.  At Thermoset University, we offer a comprehensive line-up of polymer training focused on thermoset polymers.  We offer online webinar training, short courses, and customizable thermoset polymer training modules.  Click to for see our Three Day Thermoset Short Course description.
Classroom/Workshop Training
Depending on client needs, we can develop customized training programs in the following areas:
Technical Problem Solving
Design for Six Sigma (both Black Belt and Green Belt levels)
Design of Experiments (DOE)
Advanced Statistical Analysis
New Product Development Process
Managing Technology Development from Research to Commercialization
Intellectual Property Management
Project Management
Find out how InnoCentrix can increase your revenues, improve your profitability, and enhance your new product development efficiency by reading our Advantage Series White Papers:
Five Ways to Unleash Your Intellectual Property Potential
Increase Profits Using Process Management Tools
Two Key Criteria for Successful Six Sigma Project Selection
Four Key Elements for an Effective Continuous Improvement Process
Click on the following link to Get Free Advantage Series White Papers
Save
Save