3-Part Core Curriculum Video Series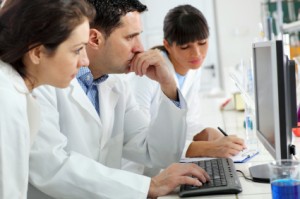 In order to provide a strong, base foundation Thermoset University has a set of three core courses that are prerequisites for the advanced topics. While these are strongly recommended, those students with prior experience in thermosets may be able to jump right into some of the advanced videos. For those looking to build a strong foundation in thermosets, it is recommended to start with the core courses below and then move on to the advanced courses.
"Introduction to Thermosets" presented by Dr. Jeff Gotro
Do you know that composites are used in applications as diverse as airplanes and iPads? This video provides the foundation in thermoset technology. In this video you will learn:
the differences between thermoplastics and thermosets
typical thermoset polymers and applications
the basic chemistry and physics of thermosets
typical thermosetting polymers properties (Tg, modulus, etc).
"Introduction to Thermoset Curing Chemistry" presented by Dr. Jeff Gotro

The popular 5 minute epoxy or Crazy Glue® used in many "fix-it" jobs involve curing chemistry and these are thermoset formulations. There are a wide variety of curing chemistries available and this video will provide the basic chemistry of common curing reactions. In this video you will learn:
curing basics for some typical thermosets
introduction to thermal and UV curing
how to select the right curing chemistry for your applications.
"Gelation, Vitrification, and Introduction to Cure Kinetics" presented by Dr. R. Bruce Prime

Since thermosets start as low viscosity liquids to enable ease in processing and the chemical reactions transform thermosets into solids, do you know the important parameters that can hinder or aid the final properties of cured thermosets? In this video you will learn:
the basics of gelation (formation of an infinite network)
the transition from rubbery to glassy state (vitrification)
the basics of determining the cure kinetics (speed of chemical reaction) for various types of thermosets.
Our powerful line-up of industry experts will provide the basics of thermosets allowing you to get the full benefit of the advanced topics in future videos. Our approach combines teaching both fundamentals as well as proven problem solving techniques. Don't miss this great opportunity to learn from the leaders in Thermosets.
So what is your investment to improve your thermoset knowledge?
The Best Value is the Three part core curriculum video series for $249. Why wait? Click the Buy Now button to enroll in our information packed 3-part video series.

Here's the great value you will receive for your investment:
Recording of the audio and video from the online event.

Copy of the presentation slides in pdf format

Transcription (eBook) of the audio portion for those who prefer to study a written document
All of the content will be available for download and further study in your members area.
Remember, the best deal is the 3-part video series for $249. Go ahead and click the Buy Now button to get started!
Get started now with the basics of thermosetting polymers and enable yourself to be a more effective scientist or engineer! Think about being the "go to" technical person in your organization for thermosets.
If you would like to purchase individual videos, they are available for $99 each.
"Introduction to Thermosets" presented by Dr. Jeff Gotro
"Introduction to Thermoset Curing Chemistry" presented by Dr. Jeff Gotro
"Gelation, Vitrification, and Introduction to Cure Kinetics" presented by Dr. R. Bruce Prime
Save