Guest Post by Jeremy Pasatta, Huntsman Corporation
In the Part 1 blog post on amine curing agents for epoxies, we reviewed in general how amines react with epoxies, how to formulate with amine curing agents, and some of the general structure-property relationships of amines.  In this post, we will take a closer look at these structure property relationships, and how amine curing agents can really impact the properties of an epoxy based formulation.
Below I have listed some of the major classes of amines and how they can bring value to an epoxy formulation:
Polyethyleneamines – High reactivity
Cycloaliphatic amines – High Tg and chemical resistance
Aromatic Amines – Extremely high Tg and chemical resistance
Polyetheramines – High Flexibility
Polyurethane based amines – Extremely high flexibility
Representative structures for the major polyethyleneamines are given in Figure 1.  What is very evident in all of these structures are the high proportion of reactive hydrogens that are available given the molecular weight.  This is the primary reason for their high reactivity and why so many formulators choose them for fast ambient cure adhesives.

Figure 1.  Representative Polyethyleneamine Structures
Developing low modulus, flexible adhesives is also becoming increasingly important when formulating epoxy adhesives, especially for battery bonding in e-mobility applications where currently the adhesives that are used are primarily silicones and polyurethanes.  To build flexibility into a formulation, it is possible to use an amine that has a urethane structure such as that show in Figure 2.  With this type of amine curing agent, elongations of up to 135% are achievable, where typical epoxy elongations are less than 10%.

Figure 2.  Representative Polyether-urethane Based Polyamine
What also becomes glaringly obvious from looking at the advantages and disadvantages of amine curing agents is that there is no one curing agent that can achieve all properties in a formulation.  Amine suppliers will often develop amine blends, which combine different amine types, along with plasticizers and accelerators to achieve a balance of properties.  These blends can achieve convenient mix ratios for formulators, have fast cure times along with a general balance of properties.  The downside is that because they contain plasticizers and accelerators there can be some health effects from these other components, and it can often be difficult to balance all properties.  A general depiction of an amine blend is given in Figure 3.

Figure 3.  General Amine Blend Formulation for Balanced Properties
Another technique to improve properties of amine curing agents are to modify the structure by reacting the amines with other constituents, generally referred to as modified amines.  Table 1 gives a summary of some common modified amines.
Table 1.  Common Modified Amines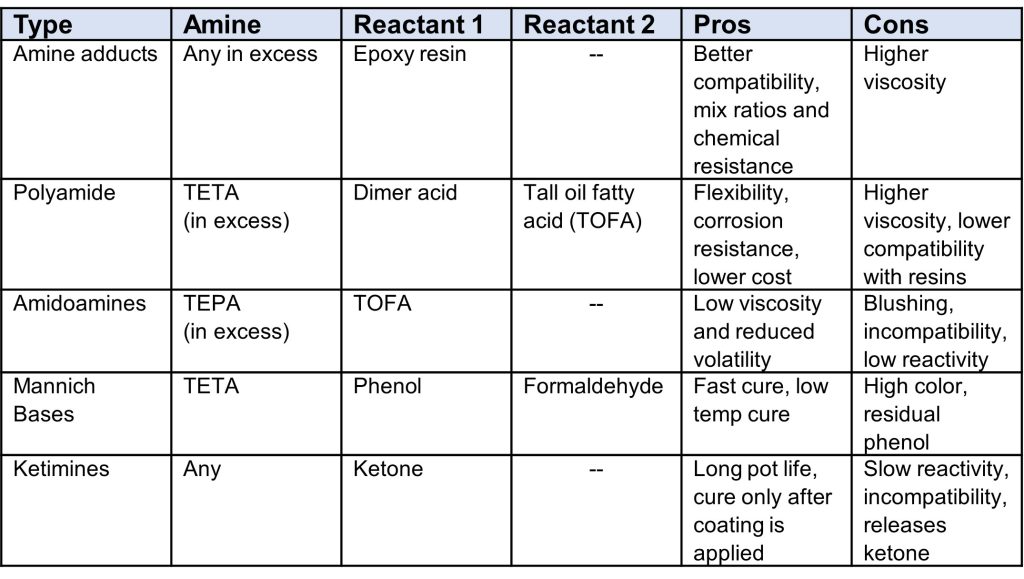 Polyamides are one of the most common modified amines found in both adhesive and coating formulations, since they give a very good balance of reduced volatility, good flexibility and corrosion resistance often at a reasonable price tag.  The general synthesis of polyamides is shown in Figure 4, and what is important to note in Figure 4 is the formation of imidazoline as a by-product.  Imidazolines can also be formed in the synthesis of polyamidoamines, and while it is a by-product of both reactions, it provides useful properties to the amine and its' content is carefully controlled through synthesis conditions.  Polyamides typically have a higher viscosity, and imidazoline content will decrease the viscosity and improve compatibility with the resin, but unfortunately can reduce the crosslink density and chemical resistance.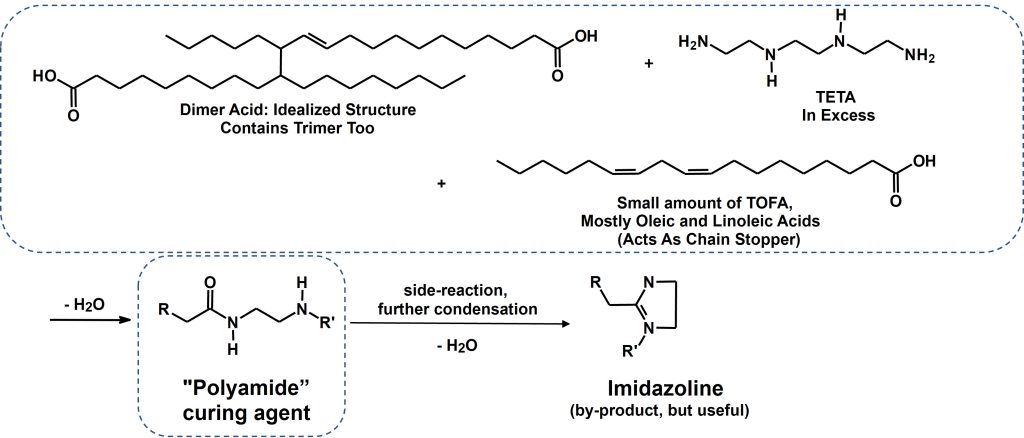 Figure 4.  Polyamide Synthesis and Structure
In this blog post we have seen that each amine structure can bring its' own unique value to a formulation.  Through blending of amines with different components, properties of the formulation can become more balanced, but this can sometimes come at the sacrifice of VOCs and health and safety.  In addition to blending amines, amines can be reacted with other components prior to be used as a curing agent to also balance properties and reduce some of the downsides of the neat amines.  In the next blog post, we'll move on from amines to look at mercaptans as curing agents for epoxies, which are known for their fast reactivity and convenient mix ratios in DIY adhesives.