Guest Post by Jeremy Pasatta, Huntsman Corporation
In the last three blog posts, we investigated the use of amines and mercaptans as curing agents for epoxy resins, and in general these curatives gave moderate properties through room temperature reactions.  But what if you needed higher chemical and thermal resistance than what was capable with an amine or mercaptan?  Anhydrides are a class of epoxy curing agent that are used to give formulations with very high chemical and thermal resistance.  The overall advantages of anhydride curing agents include:
High Tg for thermal resistance
Exceptional chemical resistance
High dielectric strength
Long pot life
Low toxicity
Low cure shrinkage and low cure exotherm
Unlike amines and mercaptans though, anhydrides require heat for curing, and one of their major disadvantages is that they can be affected by the amount of moisture in the formulation.  There are two major types of anhydride curing agents: monoanhydrides and dianhydrides.  The representative structure of mono and dianhydrides are shown in Figure 1.

Figure 1.  Representative Structure of Mono and Dianhydride Curing Agents
Monoanhydrides are usually supplied as liquids or low melting solids and give good Tg and chemical resistance along with good miscibility with epoxies and low mix viscosities.  Dianhydrides are supplied as powders and are dispersed in epoxy resins, and in general give higher Tg and chemical resistance compared to monoanhydrides.
The curing of epoxy resins by anhydrides is catalyzed by a source of hydroxyl, which can come from either a hydroxyl group present on the epoxy resin, trace amounts of water in the formulation or through the introduction of a catalyst.  The mechanism of curing is shown in Figure 2.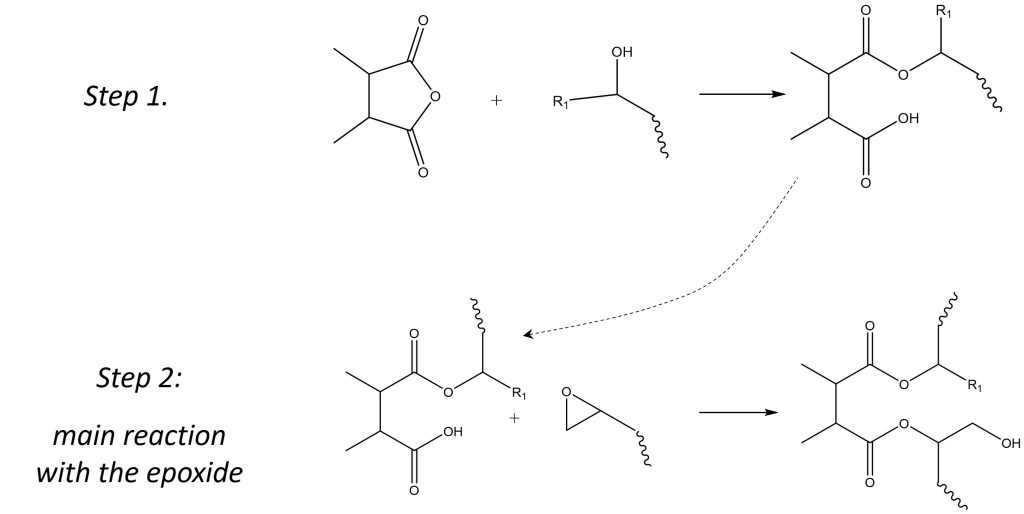 Figure 2.  Epoxy Anhydride Curing Mechanism
When formulating with amines, a stoichiometry of 1:1 (amine equivalents to epoxy equivalents) tends to give optimum properties, and for mercaptans we saw that formulations were very forgiving in terms of stoichiometry.  Optimal properties with anhydrides are usually achieved with much less than the theoretical stoichiometric amount of anhydride required for curing.  This is due to two primary reasons:
Epoxy will homopolymerize to some extent and keeping the anhydride level lower will limit the amount of unreacted anhydride left at the end of curing.
Especially for dianhydrides, keeping the amount of anhydride lower than theoretical help to avoid premature vitrification and overcrosslinking.
Table 1 gives some common mono and dianhydrides, along with the anhydride/epoxy (A/E) equivalents for optimum properties.  This table also gives the general equation for calculating the anhydride usage level in an epoxy formulation, where AEW is anhydride equivalent weight in g/eq, EEW is epoxy equivalent weight in g/eq, and A/E is the typical anhydride to epoxy ratio for optimum properties as given in the table.
Table 1.  Anhydride to Epoxy Ratio and Calculating Anhydride Usage Level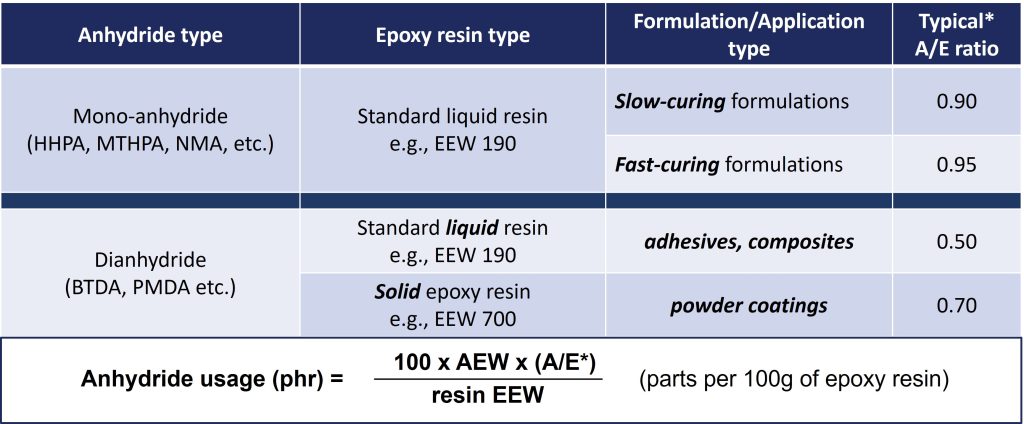 Epoxies and anhydrides will react without the use of accelerators due to commercial anhydrides containing small amounts of free acid and commercial epoxies containing trace amounts of water and free hydroxyl groups, although this reaction can be slow.  For slower reacting anhydride systems, accelerators can be used to speed up the curing reaction.  Accelerators work by opening the anhydride ring to generate the acid, opening the epoxide ring, facilitating the reaction of the acid and the epoxide group and homopolymerization of the epoxy.  Typical catalysts for anhydrides include:
Tertiary amines
Imidazoles
Quaternary ammonium salts
Dicyandiamide / substituted ureas
Anhydrides in general give extremely high temperature and chemical resistance in cured epoxies so long as they are formulated correctly.  There are a wide range of commercial anhydrides and accelerators available to the formulator to fine tune the properties and cure speed.  In the next blog post, we will step away from two component epoxy formulations and look at latent curing agents for one component epoxy formulations.