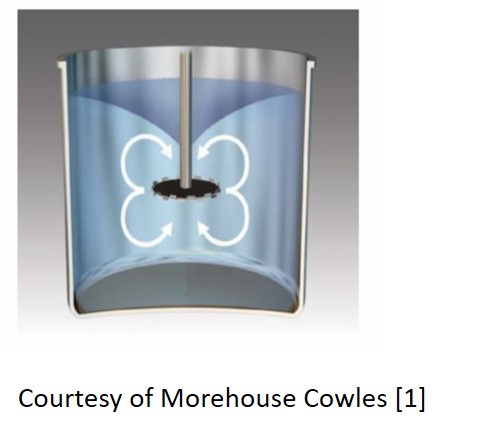 A previous post touched briefly on dispersion techniques used to incorporate fillers into un-cured thermoset resins.  This post is the first in a series covering dispersion techniques.  Many commercially available thermoset-based products rely on fillers to provide significant property enhancements.  Fumed silica was shown to be a very effective rheology modifier when a yield point and shear thinning are required or to control sagging, such as for die attach or coil bond adhesive.  Silica fillers are used extensively to reduce the coefficient of thermal expansion (CTE) in many types of thermoset polymers used in electronics.  A good example are underfills used in flip-chip packages where the CTE needs to be a low as possible to reduce the CTE mismatch between the semiconductor chip and the substrate. Thermally conductive fillers such as boron nitride or alumina are used to increase the thermal conductivity of filled thermosets.
The following are commonly used fillers:
Rheology modifiers such as fumed silica
Silica fillers to reduce the coefficient of thermal expansion
Silver fillers to provide electrical conductivity
Thermally conductive fillers to improve the thermal conductivity and heat transfer in cured formulations
Low cost fillers to reduce the overall formulated product cost
The technical challenge is to carefully add the filler material into a typically low viscosity uncured thermoset liquid.  In many cases, the viscosity of the final highly-filled formulation needs to be as low as possible, so the resin components are selected to have low viscosity.  Fillers have a large impact on the viscosity and need to be added at the right loading level to achieve the desired properties.  In order to adequately disperse many types of fillers, high shear mixing is required.  Fortunately, there are many commercially available high-shear mixers to choose from.  The right mixer depends on your volume, type of fillers to disperse and the need for degassing during mixing (thus require a vacuum mixer).  Recall that when adding large amounts of filler (typically in powder form) air is carried into the liquid resin in the interstices between the filler particles.  Also, over-mixing could also case air entrapment.  In some cases, high-shear mixing can generate heat requiring the use of a temperature controlled, jacketed mixing vessel used for cooling or to maintain the compounded mixture at the desired temperature.  Sweep blades are used to move the material off of the vessel wall to ensure good cooling during high-shear mixing.  Since there are many types of applications for filled thermosets, there is a wide variety of mixing techniques and equipment available.
The main types of high shear mixers are:
Single shaft with dispersing blade (Cowles blade)
Multiple shaft mixer with dispersing blade and sweep blades (dual and triple shaft mixers are available)
Double planetary mixers
Dual planetary with dispersing blades
Three roll mills
In the subsequent posts in this series, each of the above types of mixing methods will be covered.
References:
MorehouseCowles presentation "Fundamentals of Dispersion"