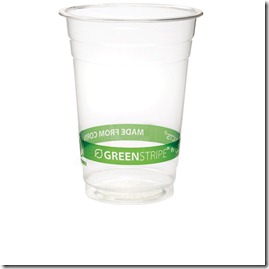 In the last several posts, Dr. Humphreys discussed some of the issues around getting biomass starting materials to the biorefinery.  We have also looked at some applications of bioplastics (for example the compostable cold beverage cups made using NatureWorks IngeoTM poly lactic acid (PLA).  In this post the market size and growth potential will be presented along with what bioplastics are produced in the largest quantities.
To begin, the bioplastics market is only approximately 1% of the overall plastics market.  The following market growth data was from the European Bioplastics/University of Applied Sciences and Arts Hanover, May 2011.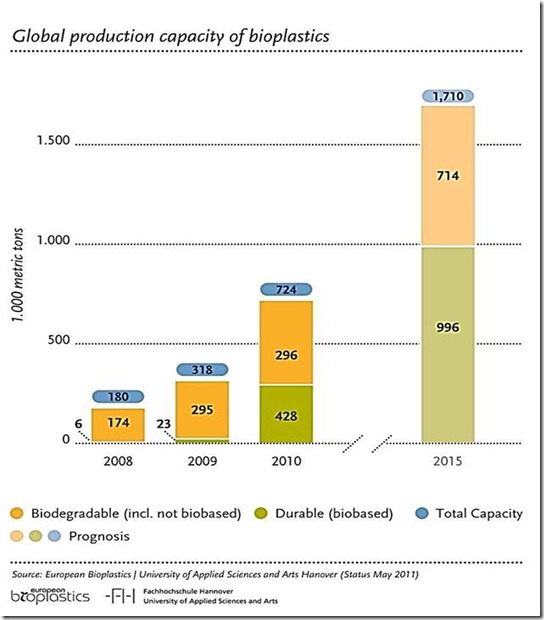 The chart shows the growth in bioplastics to about  1.7 million metric tons by 2015.  In 2010 the overall worldwide plastics production was approximately 256 million metric tons.  The data indicate that the largest segment will be durable bioplastics representing a shift away from biodegradable  plastics (including biobased and non-biobased)  Biodegradable bioplastics comprised the majority of production prior to 2010, but since then the biodegradable segment has been in the range of 42%.  Development work has focused on the use of renewable, drop-in bioplastics that can have a wide range of applications from cups to automotive seat cushion foams.
In the area of durable bioplastics, Braskem has brought onstream capacity in Brazil to make biobased polyethylene from sugar cane.  Braskem bio-PE is a drop-n replacement for fossil fuel based PE and can be processed and recycled just like fossil fuel based PE.  This trend will continue since the end of life considerations for biodegradable or compostable bioplastics has yet to be developed.
In the following chart, the biopolymers production capacity in 2015 is presented by plastic type.  (data was from the European Bioplastics/University of Applied Sciences and Arts Hanover, May 2011).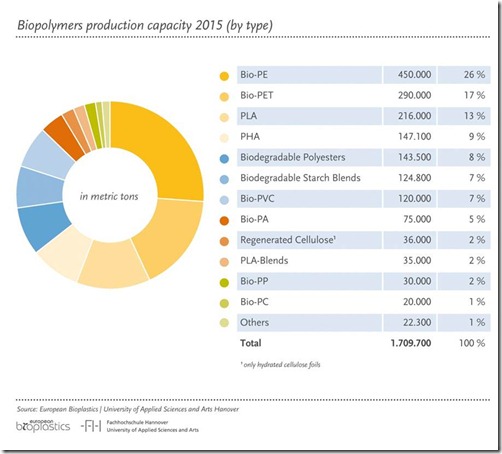 As can be expected, the top three comprise bio-polyethylene (bio-PE), bio-polyethylene terephthalate (bio-PET), and poly lactic acid (PLA).  It is interesting to note that the top two, bio-PE and bio-PET are not compostable, but have established recycle streams.  PLA on the other hand is compostable, but the full benefit has yet to be realized since there are few industrial composting facilities to handle PLA.  The surge in bio-PET has been driven in large force by the beverage industry which is a very large user of polyethylene terephthalate for liquid beverage bottles.
In the next post we will discuss in more detail the biopolymer PLA (polylactic acid).