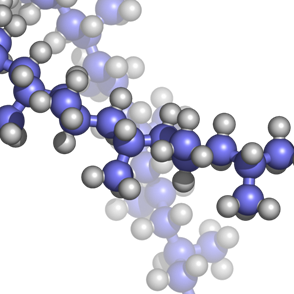 Polypropylene (PP) is a  thermoplastic polymer with a relatively high melting point (Tm=165C) and ability to process using injection molding.   The higher melting point of PP allows it to be used for plastic items such as medical products (withstand the heat in an autoclave) and dishwasher safe containers.  Additionally, polypropylene has good fatigue properties enabling use as plastic living hinges, such as those on flip-top bottles. Another application for polypropylene is as biaxially oriented polypropylene (BOPP) manufactured using a film blowing process.  BOPP sheets are used to make a wide variety of materials including clear bags. Biaxially oriented polypropylene is crystal clear and serves as an excellent packaging material for retail products.  Now let's discuss some of the synthetic routes to bio-based polypropylene.
Synthetic Routes to Bio-PP
There are multiple pathways to obtain bio-based propylene, which is the starting monomer for PP.  We will not discuss the polymerization, since it is essentially the same once you have the propylene monomer.
A recent white paper (1) outlines the various bio-based synthetic routes to green propylene: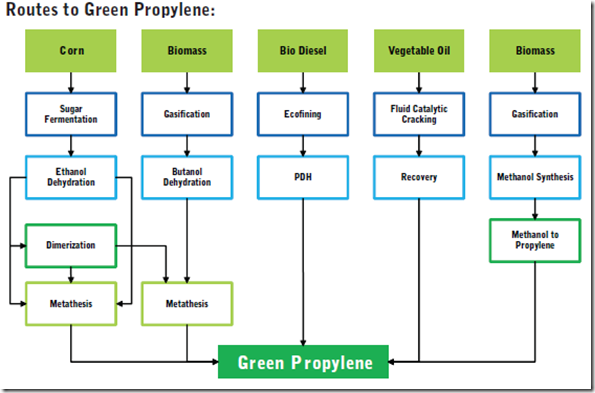 The two main routes are biochemical (typically fermentation) and thermochemical (involving gasification).  In either case, access to suitable feedstocks is critical to keep production costs in-line.  Typical bio-based feedstocks are corn, sugarcane, and beets. The biochemical route is being commercialized by the Brazilian chemical company Braskem who is the leader in the manufacturing of bio-polyethylene.  Braskem has access to large sugarcane crops in Brazil.  Enzymes are used in the fermentation process to convert sugars into ethanol and butene.  Metathesis of ethylene and butene produces propylene monomer.   The Braskem process can be summarized (2):

The thermochemical route employs a wide variety of bio-based feedstocks including grass, agricultural wastes and corn, which are carbon rich and can be gasified to produce syngas. Bio-diesel and vegatable oils can also be used in the production of green propylene.  The two routes are summarized below (1):

Production cost is a big driver.  The capital costs for the fermentation route are significantly lower compared with the gasification route.  The logical route for Braskem was to leverage their R&D and capital investment in the bio-PE plant to extend to the production of bio-PP.
It should be noted that once the propylene monomer is obtained, the existing polymerization technologies yield high molecular weight polypropylene with identical properties compared to fossil fuel based PP.  As many have stressed before, green PE and PP are bio-based, and like there fossil fuel counterparts, they are not biodegradable (or compostable).  The challenge for bio-PP producers is to develop process technology that can compete in the marketplace (near cost parity) with fossil fuel based polypropylene.
References
1) Virat Venkataraman, Propy-LENE Supply, Go Green, On Purpose Technologies for the Future, Beroe, Inc. (www.beroe-inc.com)
2) James Kahn, Green PE: The Value Proposition and Success in the Marketplace and Green PP: Update on Commercialization,  Bioplastics; The Reinention of Plastics Conference, March 6, 2013, Las Vegas, NV