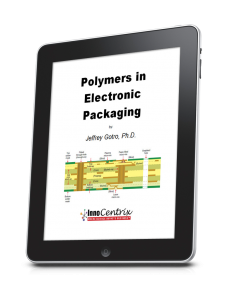 Thank you for stopping by to visit my blog on polymers, plastics and innovation. I am in the process of developing new content.  I will be blogging on product development, new advances in polymers, recycling/re-use and more.
Please use the search feature on the right to look for content that may be of interest.  I have over 400 posts on a variety of topics all related to polymers and plastics.
My newest eBook cover Polymers in Electronic Packaging (click on the image on the left for more information).    My eBooks are compilations of previous blog posts allowing readers to have multiple posts in one easy to read eBook.
You can also explore some of my eBooks using the navigation bar or click on the eBook images on the right sidebar below.