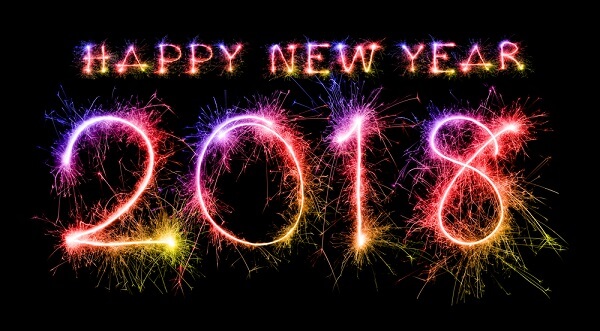 Happy New Year and Best Wishes for a Prosperous 2018!
Last year I had a series of posts on specific uses of polymers in electronic packaging.  I am in the process of developing an eBook on this topic and have identified new content that I want to include.  I will add the content during my weekly blog posts and then complete the eBook later in the year .
Let's get started by defining the term electronic packaging.  When I first got into this field, the nomenclature was confusing.  Electronic packaging comprises the materials and structures used to connect the semiconductor chip with other electronic components.  It does not mean the plastic case or in some of the new phones the composites shells.  The semiconductor chips have output and output terminals (called I/O's) that are used to connect the chip with other chips or with power, resistors, inductors, and capacitors.  The spacing between the I/O's on the chip (called the pitch) is very small compared with the typical pitch on a printed circuit board.  In order to "fan-out" from the small pitch on the chip to the larger pitch on the substrate or circuit board, electronic packaging designs are used.  Polymers are the enabling technology, whether it be polymer-based adhesives used to glue the semiconductor chips to a metal leadframe and the mold compound used to encapsulate the chip after being mounded as shown in the following schematic.

The semiconductor chip, also called a die (strange name, but as you will see, there are a lot of unique terms used in electronic packaging) is attached to the metal die pad with an filled-polymer adhesive called a die attach.  (Click on the hyperlinks to go previous blog posts). The die pad and lead fingers are part of what is called a leadframe.  The leadframe and die are encapsulated using a mold compound (black encapsulant in the image above).  Mold compounds are highly filled epoxy resins.
Other types of packages, such as a flip chip package shown in the next schematic have many polymers used in the design.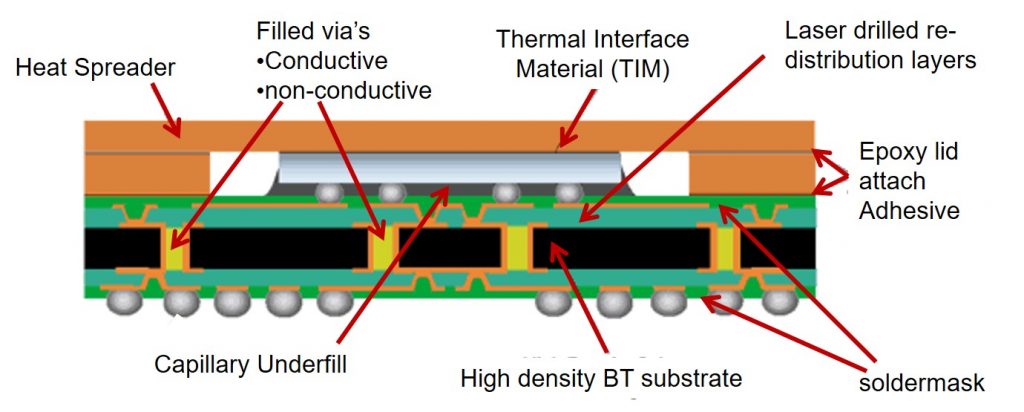 The image above shows a fairly complex flip chip package with many polymers providing critical functions as outlined below:
Epoxy, polyimide or polybenoxazole film redistribution layers
Bis-maleimide triazine epoxy (BT) laminate used in flip chip high density BT substrates
Epoxy/acrylate UV imageable soldermask
Silicones/thermal greases in TIM materials
Epoxy or cyanate ester/epoxy used in capillary underfills
Filled-epoxy via fills (conductive with silver filler and non-conductive with silica filler)
Note the wide range of polymers used.  One of the key aspects of polymers utilized in electronic packaging is high temperature stability along with the ease of processing.  The next post will discuss the advantages of polymers called thermosets in electronic packaging.