As was discussed in the first post, composites span a wide range of performance and cost.  In this post, we will provide an introduction to polymers used in a wide variety of composites.  In the first part of this series, the focus will be on composites utilizing thermosetting resins. 
Why thermosetting polymers are used in composites?
High molecular weight is typically required to get good mechanical properties such as tensile modulus, impact strength, and high temperature stability

Efficient processing requires low molecular weight since viscosity above the entanglement molecular weight scales as the 3.4 power (that is the viscosity increases very rapidly as the molecular weight increases).  Most commercially available thermoplastic resins are in the entanglement region, have high molecular weight and thus high melt viscosity. 
In Figure 1, a schematic is shown depicting the influence of molecular weight on the tensile and impact strength as well as the viscosity showing the dilemma outlined above.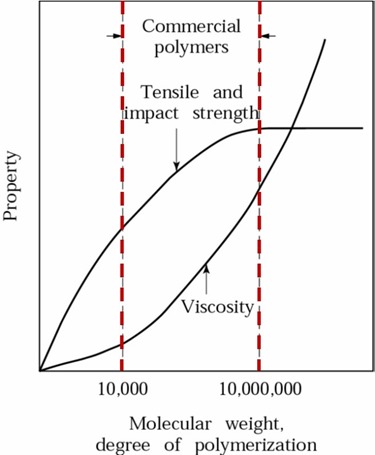 Figure 1.  Schematic of polymer properties as a function of molecular weight (1).
These two opposing molecular weight requirements create a dilemma for the materials engineer tasked with resin selection for a composite application.  The solution to this apparent conflict is provided by using thermosetting polymers which have low molecular weights (and low viscosity for ease of processing) in the uncured state and have very high molecular weights after chemical crosslinking.  The schematic below shows the progression in the molecular weights of thermosets during curing.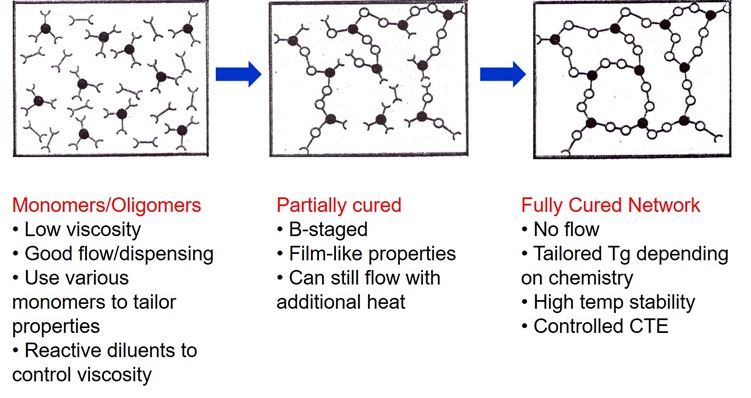 Uncured thermoset formulations typically have low molecular weight monomers and oligomers as the main components resulting in a low viscosity.  The low viscosity allows for a wide range of processing methods such as resin infusion, wet lay-up, resin transfer molding, vacuum assist resin transfer molding, and others.  Additionally, the choice of starting monomers/oligomers allows the fully cured properties to be tailored for the specific application.  Some thermosets result in very high glass transition temperatures (Tg) while others provide a lower or intermediate Tg and mechanical properties.  Reactive diluents can be utilized to further lower the viscosity allowing for very high filler loadings or to facilitate fiber wet-out. 
A key feature of thermosets is the ability to be partially cured and is termed B-staged.  Many prepregs are partially cured to the B-stage to allow for easy handling (film0like properties) during layup but will flow upon application of heat and pressure.  A large number of composite structures are made using a wide variety of B-staged prepregs. We will be discussing prepregs in much greater depth in subsequent posts.
Once the thermoset resin/composite is formed into the desired shape and the reinforcements are wet-out, then chemical crosslinking rapidly increases the molecular weight.  In the case of thermosetting resins, the chemical reaction leads to a highly crosslinked network structure that has high temperature stability and good physical and mechanical properties.  Fully cured thermosets will not flow due to the crosslinked network structure if exposed to high temperatures.  Thermoplastics on the other hand, will soften and flow above Tg or the melting point (Tm) leading to a limitation for use in high temperature applications such as aerospace composites and electronic adhesives and coatings.  
The choice of chemistry, both monomers/oligomers and curing agents allows the final properties to be tailored for the final end-use.  There are a wide variety of thermoset resins with different cost/benefit relationships.    
Thermoset resins used in composites (arranged in approximate order of decreasing utilization):
Unsaturated polyesters

Phenolic resins

Epoxy resins

Vinyl ester resins

Bismaleimides 

Cyanate Ester resins
We will be covering these resin chemistries in more detail in subsequent posts. 
References
Brent Strong, Introduction to Composite Materials, Brigham Young University