Guest Post by Jeremy Pasatta, Advanced Polymer Coatings
Amine curing agents are still considered the largest class of curing agents for epoxy resins, and they are often used in demanding applications that require fast return to service or curing in less than ideal environments, such as very low temperatures.  While there are some amine structures that can achieve these attributes, very commonly accelerators are used in conjunction with the primary amine curing agents.  Accelerators for amines tend to fall into four main categories: alcohols, tertiary amines, carboxylic acids and reactive accelerators.  Examples of each type are given in Table 1.
Table 1. Typical Example of Accelerators for Amine Curing Agent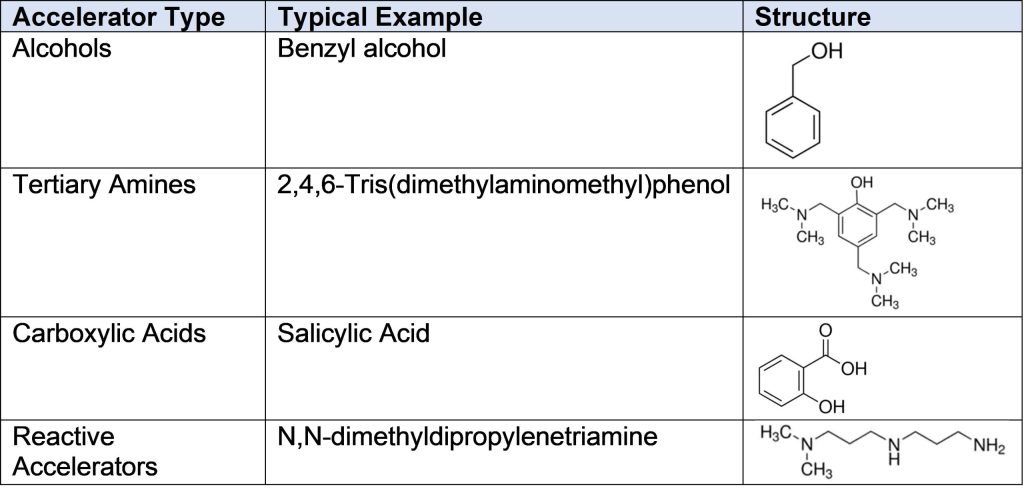 Benzyl alcohol is possibly the most used accelerator in amine cured epoxies, and it acts by first activating the epoxide ring, making the amine-epoxy reaction faster.  This general mechanism is shown in Figure 1.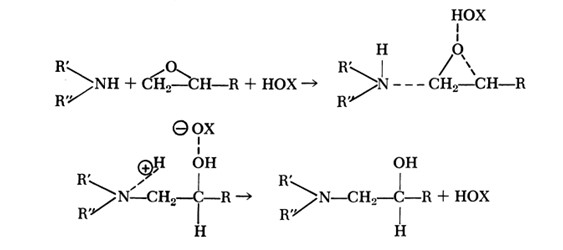 Figure 1.  Acceleration of Amine-Epoxy Reaction with Alcohols
There are several important features to note about the acceleration mechanism shown in Figure 1.
The stoichiometry between epoxide and OH is 1:1
The alcohol or acid is not reacted on to the epoxy
The X group attached to the OH can affect degree of acceleration
Because the stoichiometry is 1:1 between the accelerator and the epoxy, accelerators such as benzyl alcohol and salicylic acid are added in higher than catalytic amounts in the formulation, and they can typically be as much as 30-40% of a blended amine curing agent.  Because the accelerator does not react into the epoxy, it is then free in the final cured formulation, and can act as a plasticizer or leach out of the final cured part.
In any type of thermoset curing reaction, there comes a point in the reaction where conversion becomes limited because the formulation is frozen in place and there is not sufficient mobility for the final reactants to find each other and complete the conversion.  This final conversion can be reached in one of two ways:
Increasing the temperature of the reaction to increase mobility.
Increasing the fluidity of the system.
Because accelerators such as benzyl alcohol are not reacted into the system and are added at higher levels, they will maintain the fluidity of the formulation as curing progresses, and therefore, just by acting as a diluent will increase the final conversion of the reaction between the amine and epoxy.
Some formulations, such as coatings used for potable water tanks, cannot have the accelerator leach out, and accelerators such as N,N-dimethyldipropylenetriamine shown in Table 1 are used.  This accelerator contains both an accelerating functional group, in this case a tertiary amine, as well as a primary and secondary amine that is capable of reacting with the epoxy ring.  The overall effect of this type of accelerator is that it will increase the speed of reaction between the amine and epoxy, while also being bound into the final cured structure, thus lessening the amount of accelerator available to be leached out of the formulation as well as lessening the plasticization effect.
2,4,6-Tris(dimethylaminomethyl)phenol shown in Table 1 is an interesting accelerator for the amine-epoxy reaction because it contains three tertiary amines along with a phenolic OH group.  Because this type of molecule contains so many groups capable of accelerating the reaction between epoxy and amine, it can be added at smaller amounts, usually 1-5 phr, in comparison to benzyl alcohol.  Figure 2 shows the acceleration effect of 2,4,6-tris(dimethylaminomethyl)phenol on the reaction between 100 parts of a bisphenol A based epoxy and 60 parts of a polyamidoamine.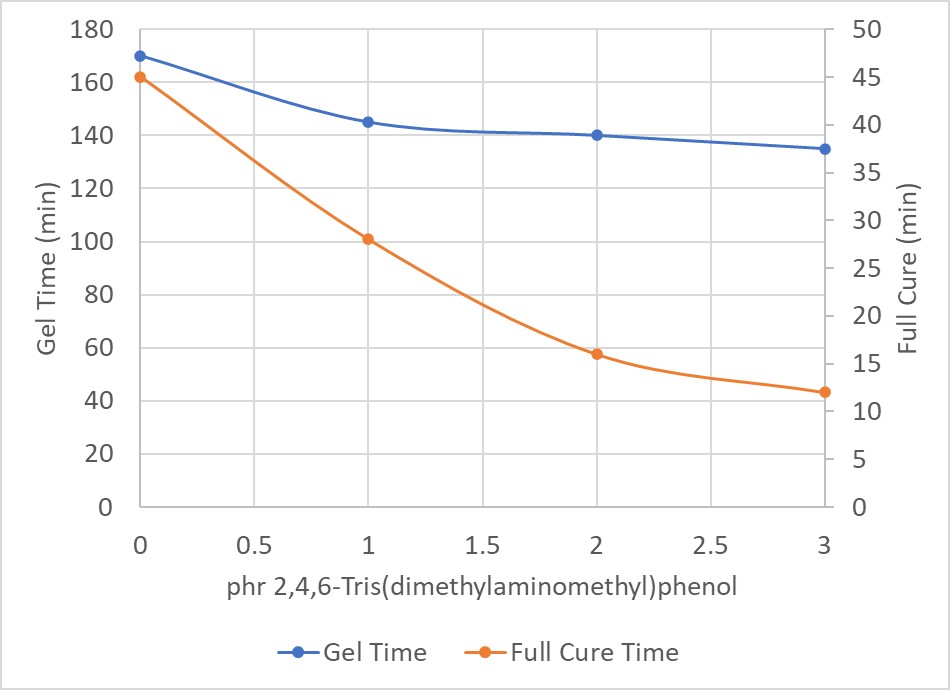 Figure 2.  Acceleration with 2,4,6-Tris(dimethylaminomethyl)phenol
Figure 2 shows that at only 3 parts of 2,4,6-tris(dimethylaminomethyl)phenol, the full cure time is reduced from > 30 minutes to only 12 minutes, with minimal impact on the gel time, which means near equivalent pot life for a formulation with and without accelerators.
Accelerators will continue to be an important part of the amine cured epoxy formulation as end users push faster return to service times, and suppliers continue to innovate to develop new accelerators that overcome some of the limitations of current technology.