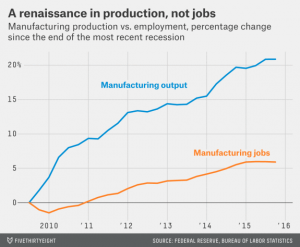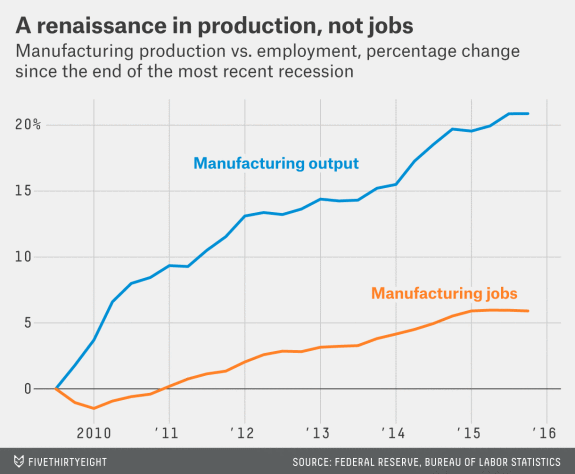 In my last post we started a discussion on the high level state of jobs in the United States.  The graph above shows a telling trend.  Manufacturing output is up over 20% since the recovery started, but jobs are only up approximately 6 percent.  There was job creation in the manufacturing sector, but automation and factory efficiency led the way.  So where are the jobs that will be hard to automate?  Let me tell you a story.
One morning on my way out of the house, I hit the garage door opener button and as the door started to open I heard a large bang.  The spring broke and the door came crashing down, jumped the track and "toasted" my garage door opener.  Now I needed some help.  No polymers here!  I went back to my computer and used Google to find a garage door repair service.  Turns out there were several to choose from.  I looked at the Google reviews and called a couple of them.  I found one guy (let's call him Joe) who could come out the next day between 3:00 – 5:00 PM.  Joe said he would call early in the afternoon to confirm his arrival time.  Sounded pretty good.  The next day Joe called me at around 3:00 PM and said he was running a little late, but would be at my house around 5:00 PM.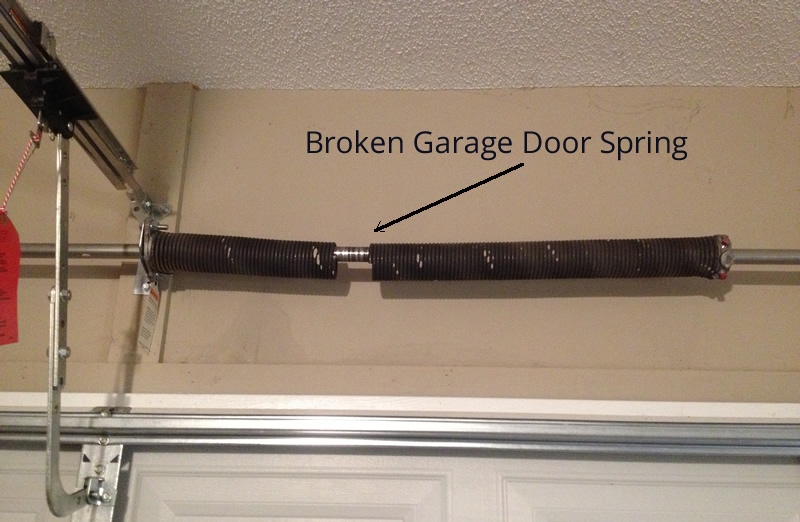 Joe got to my house at 5:30 PM and did an inspection of the entire door.  The track and rollers were OK but the spring needed to be replaced and once the door was operational, he would check out the opener.  Joe went right to work.  After his inspection he told me the type of new spring I needed, the cost of the spring, mounting hardware, calculated the cost, and asked for approval to proceed.  He had all of the replacement parts on his truck and after an hour and a half, Joe had the new spring installed, set the spring tension and tested the door.  No need for a new opener (dodged a bullet this time!).  Joe lubricated all of the wheels and aligned the tracks so the door opened smoothly.  When I got his bill, he charged $80/hour plus the cost of parts.  He did a great job, was friendly, and as he finished Joe said he had two more customers to visit before he quit for the day.  He put a sticker on my garage door opener with his contact info in case I needed him again.
I am sure this guy didn't have an engineering degree from MIT, but Joe knew how to run a small business. Joe most likely had a high school diploma and some pretty good on the job training.  I don't know if you can go to trade school for garage door repair.  This guy knew how to fix garage doors, but Joe had hustle and I bet he makes pretty good money fixing garage doors.  Joe also made it easy to take my money.  When he finished he got out his cell phone with the Square "thingy" and swiped my credit card.  He sent the receipt to my email and off he went.  The point to this story is that there are jobs available for individuals who have some initiative, skills, and an eagerness to work hard.  The other point of this story is that it would be nearly impossible to automate Joe's services.  Think about it.
Consider trades like plumbers, electricians, car mechanics, appliance repair, and Joe who must first diagnose the problem (like a broken spring or light switch that won't work), have the training and experience to know how to fix the issue, and the manual skills to complete the job properly and efficiently.  With the baby boomers retiring in record numbers, there is a large skill gap developing.  This widening gap will provide opportunities for younger workers to step up and work in solid middle-class jobs that will be hard to automate.  The United States is the land of opportunity.  Think about how many immigrants came to this great country with essentially nothing and became solid contributors to our economy.  Or guys like "Joe" who hustle and leverage their training and skills to provide for their families.
Dr. Bob Humphreys will be back next week with more on bioplastics.  Have a great week.
Garage door broken spring image source: http://www.bbtyxjw888.com/spring-garage-door.html