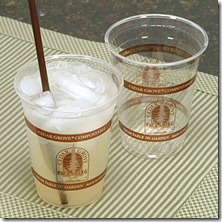 My wife and I went to an upscale fast food restaurant over the weekend and our cold beverages arrived in a clear cup with a brown stripe with the words "compostable" in the stripe and the plastic flatware was labeled "biodegradable." I had a feeling that the company wanted to be environmentally friendly since I live in Orange County CA and businesses appear to be trying to help the environment.  But more on this later.  After I was done I turned over the cup to see what the recycle label said.  I had the number seven symbol but instead of "other" it had PLA, which stands for polylactic acid.  It also had the Ingeo™ label which is the trade name for PLA from NatureWorks, LLC. 
Interestingly, it also had a Cedar Grove Packaging label.  Cedar Grove is an innovative company in the Seattle WA area that has been an early adopter of composting.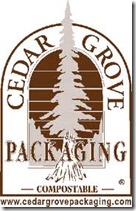 Cedar Grove Composting, Inc., is a family-owned waste management firm that has served the Puget Sound area of Washington and Oregon since 1938. In 1989, Cedar Grove began large-scale composting operations, and started including compostable products in 2003. Before they can be accepted for composting, biobased products must be submitted to Cedar Grove for testing at its site. To qualify for on-site testing, products must already be BPI certified, meet ASTM D6868 or meet ASTM D6400.  For more information visit the Sustainable Plastics website.
But let's get back to cups…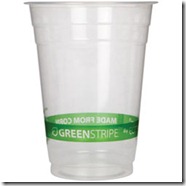 Some compostable cups come with a green stripe and are labeled "compostable." An example is Green Stripe™ Cold Cups.  These fully compostable cups come with a stylish green design so the environmental message is clear: "Made from 100% Compostable Corn". Green Stripe™ Cold Cups provide a renewable way for you to save resources without compromising performance.
Made with Ingeo™ – a natural plastic made from renewable resources

Crystal clear PLA performs as well as conventional plastic but is 100% compostable within ASTM D6400
As I looked around the restaurant, I noticed they only had one type of waste bins.  No recycle bins, or more importantly no bins marked compostable only.  Strange…The company went to the trouble (and potentially added cost) of providing customers with ASTM certified compostable PLA cups, but didn't do anything right with respect to end of life options.  The paper waste, food waste, the brown stripe cups, and the "biodegradable" flatware all went into the same trash bins.  This raises a couple issues:
How many customers actually knew anything about the cups they were using?

How many customers would know what to do with a PLA cup?

Lastly, the only proper way to dispose of these cold beverage cups would be to have a compostable bin, not a recycle bin.  Placing PLA into the recycle stream is not very helpful, since it will be comingled with all of the other #7 plastics.  It could also be a contaminant to the PET stream, since the cups look a lot like PET to the untrained eye.   
What I came away from this experience is that we have a long way to go in terms of effectively utilizing the emerging new bioplastics and most importantly managing the critical end-of-life considerations.