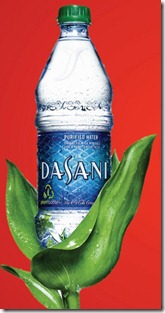 In a previous post we made reference to the strategy used by the Coca-Cola company to migrate toward using more renewable feedstocks for beverage containers.  I had the pleasure to hear Dr. Robert Kriegel from Coca-Cola give a keynote at the Society of Plastics Engineers Bioplastics Conference in Seattle, WA in May.  He mentioned that there currently are 1.7 billion servings of Coca-Cola products each day and they are projecting that to increase to 3 billion servings a day by 2020!  The sheer magnitude of the packaging issues makes it clear that Coke has a huge driving force to move packaging to a more environmentally friendly plastic.
The key to is to use a biobased approach that yields a bottle that meets all of the high quality standards for Coca-Cola beverages and remains 100% recyclable (a "drop-in" replacement like we discussed in an earlier post).  There is an established recycle stream for polyethylene terephthalate (PET) and any new biobased PET must not contaminate the recycle stream.  The rationale is the the bio PET will have the same bottle performance, use renewable plant feedstocks, have a lower carbon footprint, and have less waste since it will be fully recyclable.
Let's look a little deeper into the chemistry of bio PET.  PET is produced using condensation polymerization of ethylene glycol (EG) and terephthalic acid (TA). The following figure shows a schematic of the PET polymer.  The TA portion continues to use fossil fuel based feedstocks.  The EG compoment is sourced with a biobased feedstock.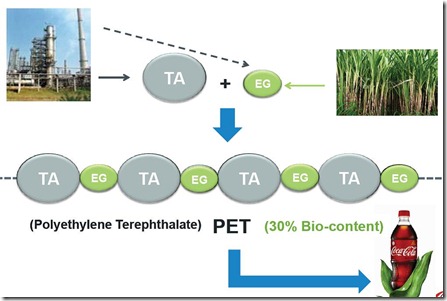 If we now look at the chemical structures of the diacid (TA) and the diol (EG), we can look at the carbons from fossil fuel and biobased carbons in the diol.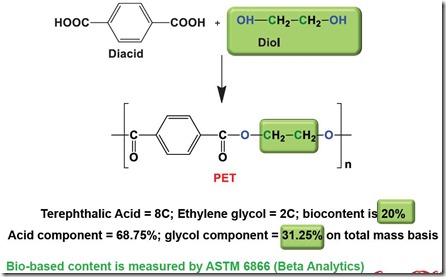 The biocarbon content was measured using ASTM 6866 from Beta Analytics and the results show approximately 30% biobased carbon.  Considering the huge amount of PET used in beverage applications, this represents a significant step in reducing the global CO2 production.  But the Coca-Cola Company didn't stop at a partial replacement of fossil fuel based raw materials.  Using an Open Innovation approach, it has established three R&D partners (Virent, Gevo, and Avantium) to drive to a 100% biobased PlantBottle.TM  The Virent approach uses soluble carbohydrate starting materials and the Gevo approach used fermentable sugars both routes to produce bio-TA.  The Avantium approach uses C6 sugars to produce furanics, then Furan diacid, which when polymerized with bio-EG will form bio PEF, a totally new 100% biobased polymer.
The field of biopolymers is exciting and with major players like the Coca-Cola Company making a major strategic decision to drive the conversion to the use of bioPET, significant progress will be made in the coming years.
*All Images were from the presentation by Dr. Robert Kriegel, SPE Bioplastics Conference, Seattle, WA. May 17, 2012.