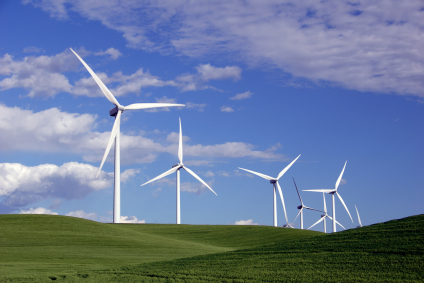 I was visiting my wife's parents in rural Illinois recently and they participate in the Big Sky Wind Project in Bureau County, Illinois.  Big Sky is composed of 114, 2.1MW turbines spread out over 13,000 acres of elevated farmland and is one of Illinois' premier wind resources.  My father-in-law has two turbines on his farm.  During our visit I was able to get "up close" to a turbine under construction and observe several in operation.  These are big structures!  Being a polymer guy, I was fascinated with the blades which are made using advanced polymer composites.  Being a curious type, I decided to do some research and share a little bit of what I found in a series of blog posts.  Thanks are extended to my summer intern, Sanaz Ghalambor, a MBA student at Concordia University, Irvine, CA who conducted the research and also co-authored the post. 
Wind is already the least expensive renewable energy source for producing electricity, according to the World Resources Institute. In regions geographically suited to harnessing wind power, this clean energy source can produce electricity at a cost competitive with coal or natural gas- without the greenhouse gases such fuels emit.
Wind turbines are the composite industry's fastest growing application. The production of wind turbine blades accounted for about 2.5% of all thermoset composites manufactured in North America. Ultra light, strong, highly resistant and durable, composites are ideal for producing lightweight blades with tremendous performance capabilities.
With such high hopes riding on this alternative energy source, the wind turbine blade industry is working hard to improve manufacturing efficiency and address blade failure issues. Until now this was primarily a European business, but now it is a global business with supply in every major region.
Composites dominate the wind turbine blade market because of their superior fatigue characteristics and stiffness-to-weight ratio, ability to fabricate complex geometries and potential for optimizing blade designs.
 Material and methods
A wind turbine is composed of several composite parts; but the blades, made of fiber-reinforced epoxy or unsaturated polyester, represent the largest use of material. Other turbine parts made of polyester include the nacelle and the hub. The dominant processing method is vacuum resin infusion. It generates low VOCs and can evenly wet out large parts with a controlled amount of resin, thus facilitating production of lighter and less expensive blades.
Prepreg molding with a woven or unidirectional glass fabric is more costly but offers greater consistency because it already contains the matrix material (typically epoxy).  Typically composed of 70% to 75% glass by weight, these aerodynamically designed blades must meet very strict mechanical requirements such as high rigidity and resistance to torsion and fatigue. High static and dynamic loads over a wide temperature range are typical during a 20-yr service life. A standard 35- to 40-meter blade for a 1.5-MW turbine weighs 6 to 7 tons.
Both epoxy and polyester, and to a lesser extent vinyl ester, shared the wind blade business in the early days but epoxy earned preferred status as blades grew longer. Polyester is easier to process and is less expensive, but epoxy offers stronger mechanical performance—particularly tensile and flexural strength—for blades longer than 26 m (85 ft.). Unlike epoxy, polyester needs no post-curing but the blades are generally heavier.
E-glass is by far the most used reinforcement, while more costly carbon fiber is employed on a limited basis for greater stiffness and reduced weight in longer blades.
Bigger, Stiffer, Lighter
To reduce the cost of wind energy, developers want to maximize the amount of wind power they can capture. This has spurred demand for turbines with larger MW capacity and a corresponding increase in blade length. Over the last decade, average wind turbine capacity has doubled, thus cutting by 50% the number of turbines and blades necessary to generate a certain amount of power. The average turbine generating capacity is moving from 1.5 MW to 2 to 2.5 MW. The turbines on my family's farm in Illinois are 2.1 MW with approximately 43 m (142 feet blades).  The future holds even larger turbines of 3 MW and up, particularly for offshore use. Today, the largest unit is a 7.5-MW prototype offshore turbine developed by Clipper Windpower Plc, Carpinteria, Calif. It has 50- to 60-m blades.
Many industry observers believe larger turbines will require carbon fiber to provide the necessary stiffness and light weight.
In vacuum infusion, carbon fiber is hampered by its inability to wet out efficiently, though more experienced blade makers have learned to overcome this problem. Consequently, more costly prepreg molding is the preferred and most efficient method to utilize carbon fiber. At the same time, carbon fiber historically suffers cost and availability issues. However, carbon-fiber makers argue that new capacity puts supply more in balance today.  This is the first in a series on polymer related topics on wind energy.