The invention of the computer mouse in 1964 by Douglas Engelbart remains a landmark in history. The device was the first pointing device to be developed for widespread use and is still the most popular pointing device to be sold all over the world.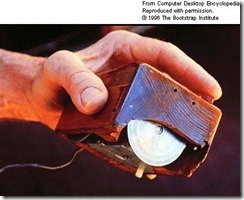 In 1964, the first prototype computer mouse was made to use with a graphical user interface (GUI), 'windows'. Engelbart received a patent for the wooden shell with two metal wheels (U.S. Patent # 3,541,541) in 1970, describing it in the patent application as an "X-Y position indicator for a display system." "It was nicknamed the mouse because the tail came out the end," Engelbart revealed about his invention. His version of windows was not considered patentable (no software patents were issued at that time), but Douglas Engelbart has over 45 other patents to his name.
Douglas Engelbart, a scientist at the Stanford Research Institute, invented the prototype when working on a larger project aimed at augmenting human intellect to solve the problems of mankind. Engelbart's team envisioned computers would play a big role in the project but they needed a way to interact with the information.
Engelbart analysed a number of pointing devices in use – or being considered for use – like the light stick and joysticks, but found they were all missing important characteristics, such as speed. Once the mouse was invented, it was deemed the fastest way to move information around a page.
The hardware design was built by one of Engelbart's fellow's Bill English, and the initial design lacked the ball, which many models still carry today. The original had the cord on the front but this was quickly moved to the back to get it out the way. Because of the device's resemblance to the living creature, it was soon christened the mouse.
Engelbart received a patent for the device in 1970 for an "X-Y Position Indicator for a Display System". However, according to reports Engelbart never received any royalties from the invention as the patent ran out before the mouse became widely used.
Douglas Engelbart was awarded the 1997 Lemelson-MIT Prize of $500,000, the world's largest single prize for invention and innovation. In 1998, he was inducted into the National Inventors Hall of Fame.
Currently, Douglas Engelbart is the director of his company, Bootstrap Institute in Fremont, California, which promotes the concept of Collective IQ. Ironically, Bootstrap is housed rent free courtesy of the Logitech Corp., a famous manufacturer of computer mice.
Source: About.com Inventors